View of Seaton Beach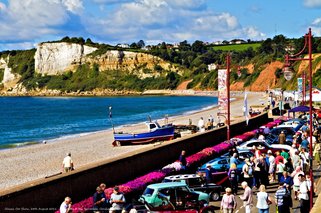 Some background information . . . . Seaton is a small seaside town in East Devon which is an "Area of Outstanding Natural Beauty" and is located within Lyme Bay on the Jurassic Coast.

Within the area, local attactions include, the famous Seaton Tramway, Pecorama Light Railway and the Sidmouth Donkey Sanctuary.

Pink Hippo Day Nursery & Pre-school is fortunate to have close links with the local Primary Schools in the area.
---

Our Setting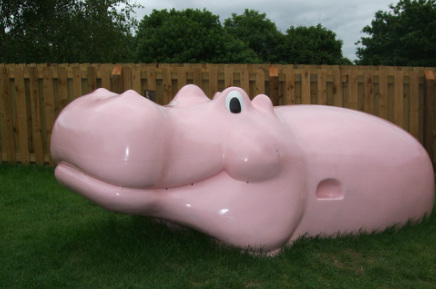 Our setting comprises of a large general play area and separate area for under 2's, within which children have access to an environment and resources which are tailored to their ages but promote independence. Adjoining the under 2 area there is a dedicated sleep room equipped with cots and rest beds. There is a separate sensory room containing a range of interactive facilities, which all children will have opportunity to access, not only those with additional needs.
Outside there is a spacious decked area, covered to enable free flow access to the garden whatever the weather and a large, enclosed, grassed area, both developed to offer a full range of learning opportunities for those children who prefer to be out in the fresh air!

Our Aims
* To help each child develop at their own pace physically, socially, intellectually and emotionally in a happy and secure environment.
* To deliver the Early Years Foundation Stage curriculum to all children under five through play, interaction and interest based topics.
* To work in partnership with parents and to promote an inclusive atmosphere where all are valued.
Opening Times

We are open Monday to Friday from 8.00am to 6.00pm, offering morning and afternoon sessions as well as full day care. We are open 51 weeks of the year (closed between Christmas and New Year and all bank holidays).
Session Structure & Fees

Our opening times are from 8am to 6pm, we offer a range of flexible booking options within these times and charge an hourly rate around block sessions. The minimum booking is 3 consecutive hours within the start and finish times listed below. This offers you the flexibility to choose hours that meet your needs, you can 'mix and match', booking different hours on different days if required (all sessions are subject to availability).
8-9am/8.30-9am 9-12pm 12-1pm 1-3pm 3-3.30pm/3-4pm 4-5pm 5-6pm
There are reduced rates for full days booked (8am-6pm).
The fee structure applies to all children not in receipt of 2gether Funding or Early Years Entitlement. The fees and session times are also applicable to funded children who attend outside term dates. Fees are payable monthly in advance. Methods of payment are cash, cheque or direct payment online. We also accept full or part payment through childcare vouchers.
We have reluctantly had to introduce a £50 registration fee to secure a place - this is only applicable to fee paying spaces and is fully refunded when your child leaves our setting providing all accounts are cleared and an adequate notice period is given.

Funded (free) Places for 2,3 & 4 year olds
Devon County Council funds 2gether and Early Years Entitlement
2gether Funding
2gether Funding can be claimed the term
after
your child's 2nd birthday. Although our setting is registered to deliver funded places, it is not universally available to all families and can only be accessed through assessment and authorisation from Devon County Council. You can either apply online at
www.devon.gov.uk/disc-2gether
or phone
0845 155 1019
with your National Insurance number, date of birth, name and child's details to check eligibility.
2gether Funding can be taken as a 'term-time only' or as a 'stretched' offer.
Term-time only can be taken as a maximum of 15 hours per week, over 38 weeks of the year - in line with local school terms.
The stretched offer can be taken as a maximum of 11 hours per week, throughout the entire year and may be more suitable to access for working parents who need ongoing childcare.
Parents are able to use funding only or buy in extra hours around their funded sessions, all sessions are subject to availability.
Early Years Entitlement
Early Years Entitlement (EYE) can be claimed the term after your child's 3rd birthday. All children are entitled to this funding. It can be claimed for a maximum of 15 hours per week term time only (38 weeks) or as a stretched offer at 11 hours per week throughout the year (51 weeks) both to a maximum of 570 hours over the year. This brings EYE into line with how 2gether funding can be accessed.
We offer a range of ways for parents to access their entitlement.
EYE can be used to cover morning or afternoon sessions, with or without lunchtime. As you can claim up to 10 hours in one day, full day care can now be accessed through EYE, although to access the full 15 hours it must be taken over two days, between no more than two settings. Alternatively we offer a variety of other EYE sessions within the day, please discuss your particular requirements and options with Sue or Debby. There is no obligation to buy in extra or wrap around hours, parents are fully entitled to access their free hours within the sessions we offer. Any combination of days or sessions can be booked, subject to availability, providing no more than the maximum number of funded hours the child is entitled to are claimed within the booking.
Parents are able to use funding only or buy in extra hours around their funded sessions, all sessions are subject to availability.
What is it like for a child here?
During their time at Pink Hippo, children will enjoy a variety of fun and educational activities. The emphasis is very much on learning through play and all our planning is based on current children's interests. This ensure that learning is relevant & meaningful to the child and promotes a positive experience of education. We will also set children relevant challenges, appropriate to their development, in order to extend their critical thinking skills. A range of opportunities for child initiated activities will be offered through our continuous provision and there will also be adult led activities for children to become involved in.
For our younger children and babies, their day will be based around their individual routines and rhythms and we will work with parents to provide continuity in their care.
Activities
We operate using the Early Years Foundation Stage (EYFS) curriculum, basing topics and activities on children's interests, seasonal events and relevant celebrations. We offer a range of activities for all babies and children in our care, planning for different ages varies in format, but all adheres to the EYFS.
Painting
Junk modelling
Treasure baskets
Messy play
Cutting & sticking
Cooking activities
Child initiated activities
Sand & water
Playdough
Tummy time
Music - instruments & singing
Movement & dance
Outdoor play
Planting & growing
Nature walks
Roleplay.......................................................................................................etc!!!
Key Person

When a child starts at Pink Hippo they will be assigned a member of staff as a key person who will oversee the development of the child and act as a point of contact between parents and the setting. The key person will also be responsible for setting up and maintaining a learning journey charting each child's achievements and development during their time at Pink Hippo. At our setting we use an online digital journal called Tapestry to maintain these records.
Healthy Living

We promote healthy living to our children, they always have access to fresh water to drink and we endeavour to operate a free-flow between the inside and outside wherever possible. We offer milk, fruit, vegetables, crackers and cheese as snacks twice a day and encourage a healthy lunchbox policy. As a healthy alternative we offer freshly cooked meals supplied by Seaton Primary School on a daily basis throughout the school terms. We also teach good hygiene procedures and encourage children to be as independent as possible in their self-care while still offering assistance where required.
Information for parents
We believe we should work in partnership with parents in order to support them and provide continuity in the care of their child. We will endeavour to give verbal information to each parent about their child's day, but will write essential info on our parent contact board for parents to see & comment on if for any reason we are unable to.
Policies
A copy of all policies can be found in our policy folder in the office. They are available to be read on request. Information about the complaints procedure, behaviour policy and safeguarding policy will be included in the welcome pack issued to new/prospective parents.
DBS

All of our staff have had an enhanced disclosure police check and all are in training or qualified to at least NVQ level 2, most to NVQ level 3. Most also hold current 2 day paediatric first aid certificates and all are expected to attend regular training to update and develop their professional skills. 
Visitors

All visitors to the setting will be asked to sign in the visitors book and sign out when they leave. Visitors include potential new parents, students, maintenance/contractors and professionals from other organisations and companies.
Visitors will ideally have phoned to arrange or confirm their attendance prior to their arrival. Any visitor who arrives unexpectedly will only be admitted to the premises if staffing levels and organisational issues allow, otherwise a future appointment should be made.
A member of staff will supervise visitors at all times. Visitors who are not familiar will be asked to provide identification upon arrival.


Conditions of Registration

We are registered for 40 children to attend at any one time, generally we choose to take no more than 9 under 2's years at any one time as our baby room was designed to cater for this number. Statutory staffing ratios differ depending on the ages of the children, we always operate within these ratios but generally exceed them.
---